Digital Station setup
(click thumbnails — and ignore the mess — still under "construction"  — see links below on all of the items mentioned here)
I now have the digital station running on an HP Mini 210 HD "netbook" computer. I hasten to add that it is the High Def screen with 1366 x 768 resolution. The added vertical height (vs. 600 pixels) is, in my opinion, essential. The DXlabs WinWarbler program in psk31 in particular needs the height. While it's not in the class as my 4gig duo core laptop, it's a quite capable machine.
I discovered that the Mini has the single audio jack (mic and earphone in one jack) as opposed to two, which was necessary for my West Mountain Rig Blaster Plug n Play.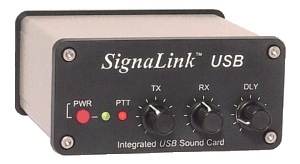 That consideration led me to the SignaLink USB soundcard system. It connects via USB and since it has its own soundcard, that offloads the computer processing from the "not quite grown up" computer. Besides, I had heard great things about the SignaLink. Using it under Windows 7 with the AGW Packet Engine has its problems. See my discussion here on those foibles. Those issues are still pending resolution.
In addition to psk31, I can also operate Winlink via AGW Packet Engine and Paclink through the SignaLink.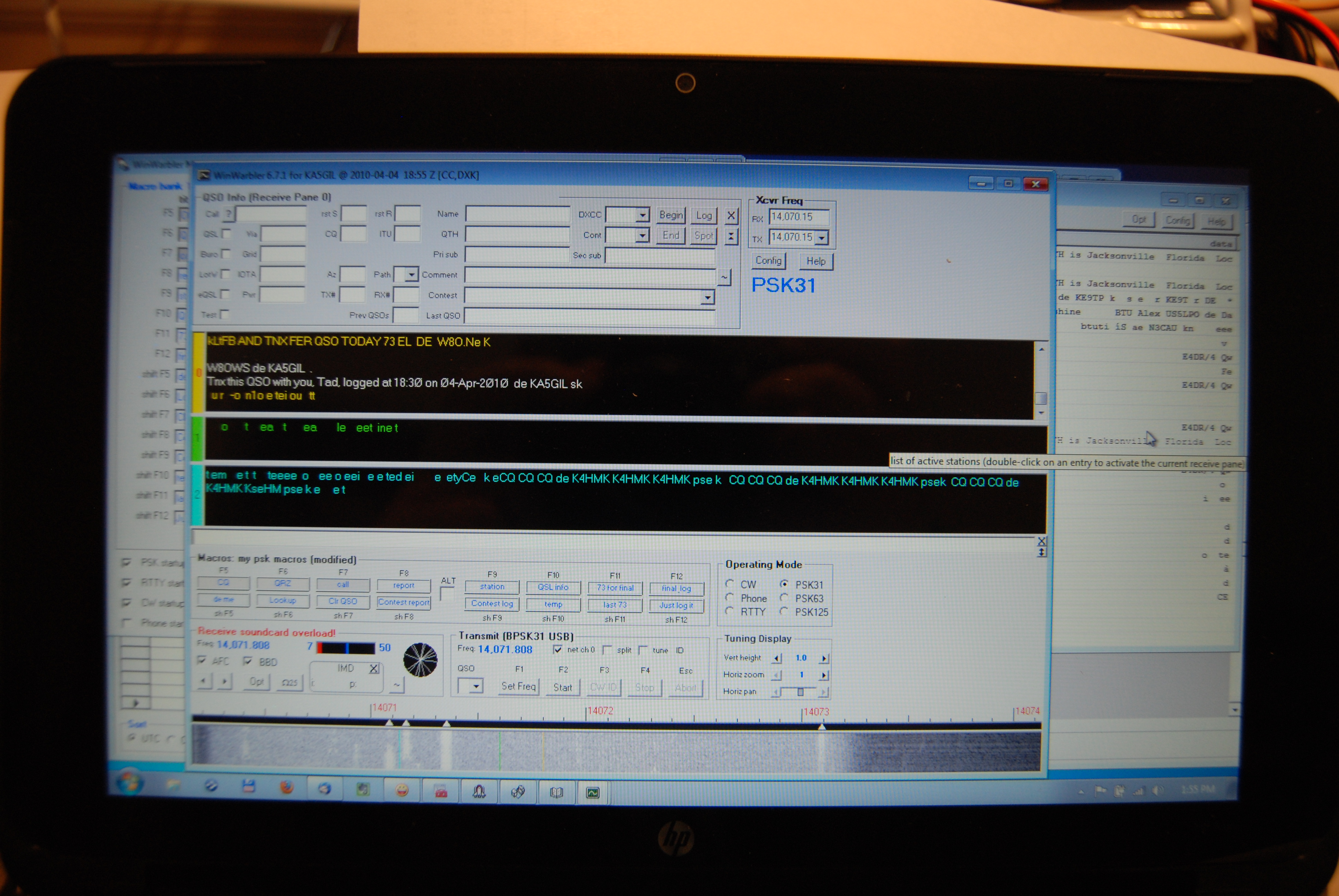 Here you can see (click the thumbnail) WinWarbler running psk31 and while it's small (hey, it's a 10.2 inch screen!) all of the necessary screen items are shown. A little farther down you'll see DXKeeper showing not only the basic log data but also the "capture" screen for realtime logging. Have not tried to actually use it, but it will obviously work just fine.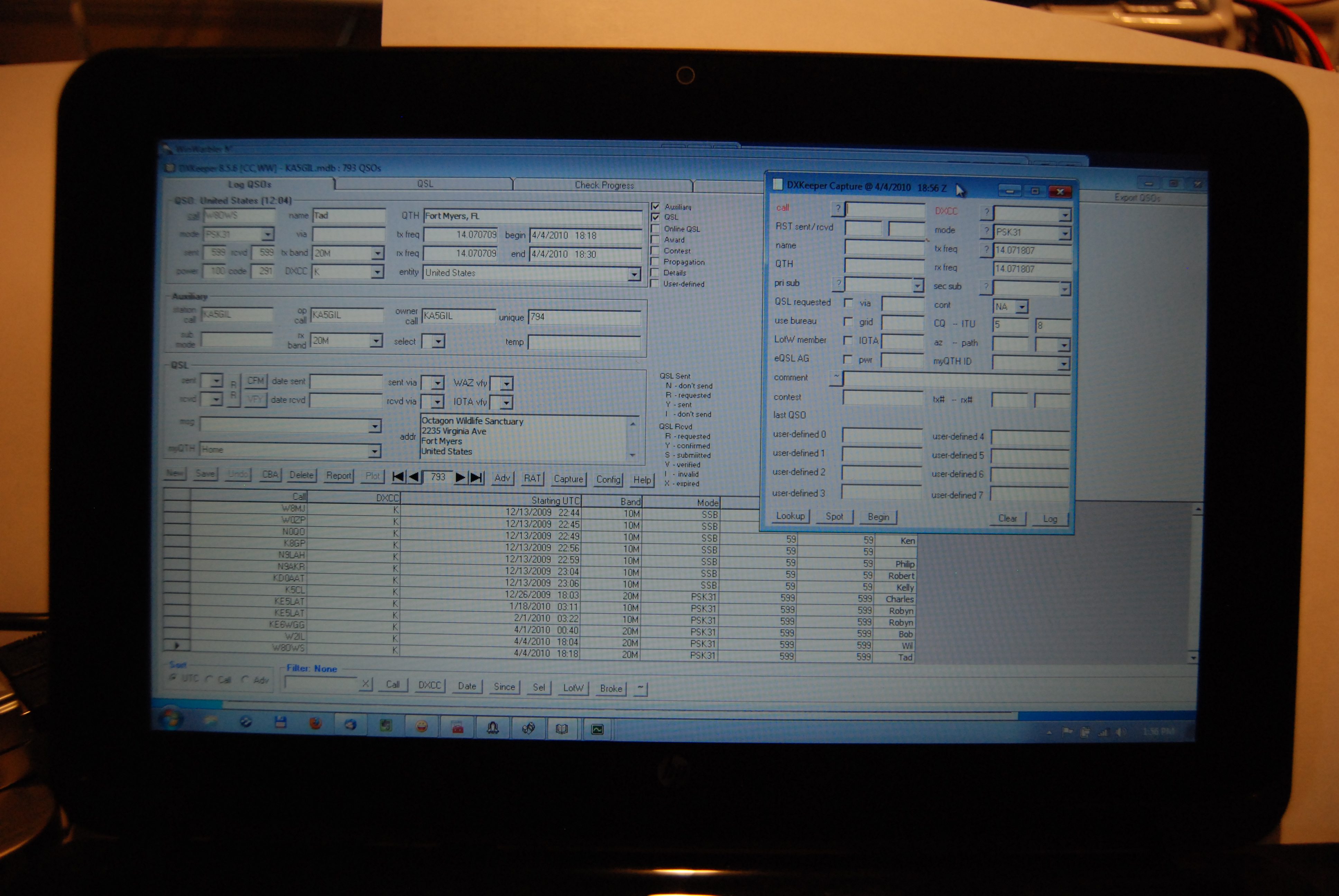 Here is the logging screen at work.
If anyone thinks about using a netbook for these purposes and don't like the diminutive screen, an external monitor is just the ticket.
Here are all the pieces … at least the essential ones. The HP, SignaLink beside it. To the right is the IC-7000 with the power supply and auto-tuner (all mounted on a board for transport — but more on that later). Above that is the computer running UI-view digipeater and iGate. To the left is the Yaesu FT-2600m running the APRS with the TinyTrak4 TNC snuggled just below that.
Links
Packet
Good Yahoo Group for AGWPE Pro: http://groups.yahoo.com/group/agwpe_pro/
Another AGWPE group: http://groups.yahoo.com/group/SV2AGW/
AGW Packet Engine Pro:  http://www.sv2agw.com/ham/pepro.htm
AGW Terminal program:  http://www.sv2agw.com/downloads/agwtermTcp.zip
SignaLink USB:  http://tigertronics.com/slusbmain.htm
Soundcard packet tips:  http://www.kc2rlm.info/soundcardpacket/
Paclink software:  http://www.winlink.org/ClientSoftware
Paclink setup instructions: http://98.243.25.192:81/nren/winlink/paclink.pdf
TinyTrak4:  http://www.byonics.com/tinytrak4/
DXlabs Suite:  http://www.dxlabsuite.com/